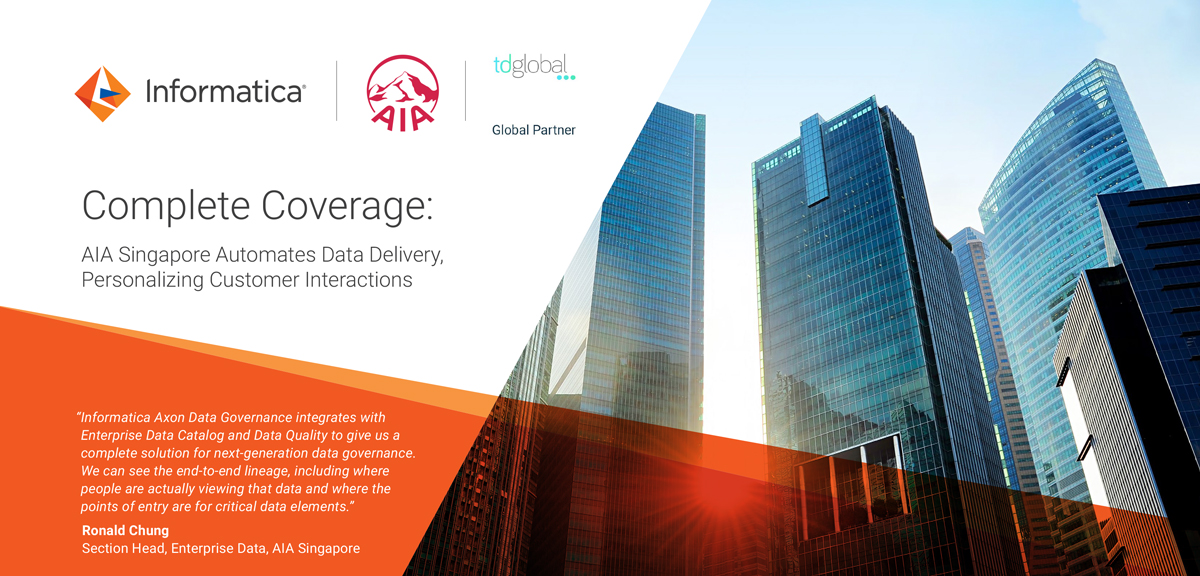 " Informatica Axon Data Governance integrates with" Informatica Axon Data Governance integrates with Enterprise Data Catalog and Data Quality to give us a complete solution for next-generation data governance. We can see the end-to-end lineage, including where people are actually viewing that data and where the points of entry are for critical data elements." Ronald Chung | Section Head, Enterprise Data, AIA Singapore
Informatica Success Story: AIA Singapore
AIA Singapore is committed to continuously evolving to protect the health and financial well-being of Singaporeans. In the face of mounting demographic challenges and technological advances, AIA Singapore is looking for deeper insights which will allow the company to connect with customers in more personalised ways than ever before.
To deliver the personalised service its customers expect, AIA Singapore wanted to strengthen data governance and better understand its business data, data standards, and policy holders. In support of its goal to become Singapore's pre-eminent life insurer, it wanted to develop a clear and standardised business glossary and make it available to the enterprise so data producers and consumers can have a common understanding of the data, leading to improved reporting and analytics output.
In addition to increasing enterprise-wide understanding of the state and health of business data, AIA Singapore wanted to discover and gain a deeper understanding of data in context based on lineage and intelligent metadata.
AIA Singapore also wanted to improve data quality to understand customers' coverage gaps to better meet their insurance needs, improve decision-making, and reduce operational costs.
"We wanted to start a new phase in our data governance journey and gain a better understanding of our business terms, data lineage, and the quality of data at the source," says Ronald Chung, Section Head, Enterprise Data at AIA Singapore.
To Read more, download the full case study along side.