Modern Data Governance Report - Download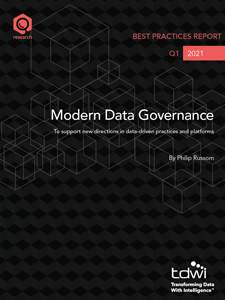 Report Scope
This report makes two assumptions about data governance, then drills into them.
First, a mature and modern program for data governance will serve two mandates:
Controlling data usage from a business compliance viewpoint and
Enforcing data standards from data quality, usability, and trust viewpoints.
Second, recent years have brought many changes to data (e.g., sources, structures, and semantics), its uses (as analytics programs expand and business operations are infused with more real-time tech), and its governmental regulation (e.g., the GDPR, CCPA).
To achieve maturity and adapt to change, most organizations must modernize data governance, which this report explains.
Register alongside to download this report.