ThinkData
sweat your asset, pivot your business
Your Data asset is like any other asset, it must be maintained and modernised - creating value, allowing your business to pivot to suit the fast pace of change in markets and economies.
Data Maturity and Capability Assessment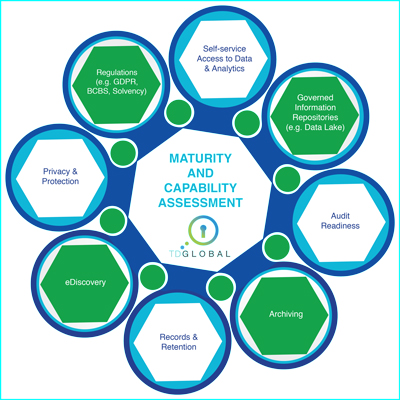 Introduction
The Basic Maturity Assessment is a condensed version of the Stanford Maturity Measurement Tool It uses the same 1-5 maturity scale and score card and is aimed at organisations with limited resources or that is very early in the design phase of building an IT and data governance program.  may find this assessment tool more appropriate to start the program building process.
The model focuses both on foundational and project aspects of DG. The foundational components (Awareness, Formalization and Metadata) of the maturity model focus on measuring core DG competencies and development of critical program resources. The project components (Stewardship, Data Quality and Master Data) measure how effectively DG concepts are applied in the course of funded projects.
It includes the three dimensions (People, Policies and Capabilities) which further subdivide each of the six maturity components, focusing on specific aspects of component maturation.
Depending on where your organization is in the process of setting up the data governance program, it may be most appropriate to use the Basic Maturity Assessment to measure the baseline maturity of and resources available to the organization. Then, as the data governance program is fleshed out, perhaps you will find that a more robust maturity assessment is needed.
How can we help you get started?